At A Glance…
Some diamonds emit a soft glow under ultraviolet light, called Fluorescence.
Industry experts cannot agree on what influence fluorescence has on a diamond, whether it enhances color or diminishes it.
Diamond Fluorescence should not ultimately influence your decision to purchase a diamond.
What is Diamond Fluorescence?
In some diamonds, a soft glow is present when they are subjected to ultraviolet light, such as a black light. This is what we refer to as Diamond Fluorescence, a topic that has been widely disputed in the diamond industry. However, results have been inconclusive and experts cannot agree on what the influence that fluorescence truly has on a diamond. Ultimately, you should not allow the existence or absence of diamond fluorescence to greatly affect your decision to purchase a diamond. It mainly comes down to personal preference and aesthetics.
Diamond Fluorescence is caused by the natural mineral properties of the diamond and has been studied numerous times by the Gemological Institute of America, or the GIA, to gain a better understanding of the debated issue. A study in 1997 done by the GIA suggested that the presence of fluorescence makes very little difference in the appearance of a diamond. Despite these findings, the existence of fluorescence has greatly influenced the pricing of diamonds.
Simulated fluorescence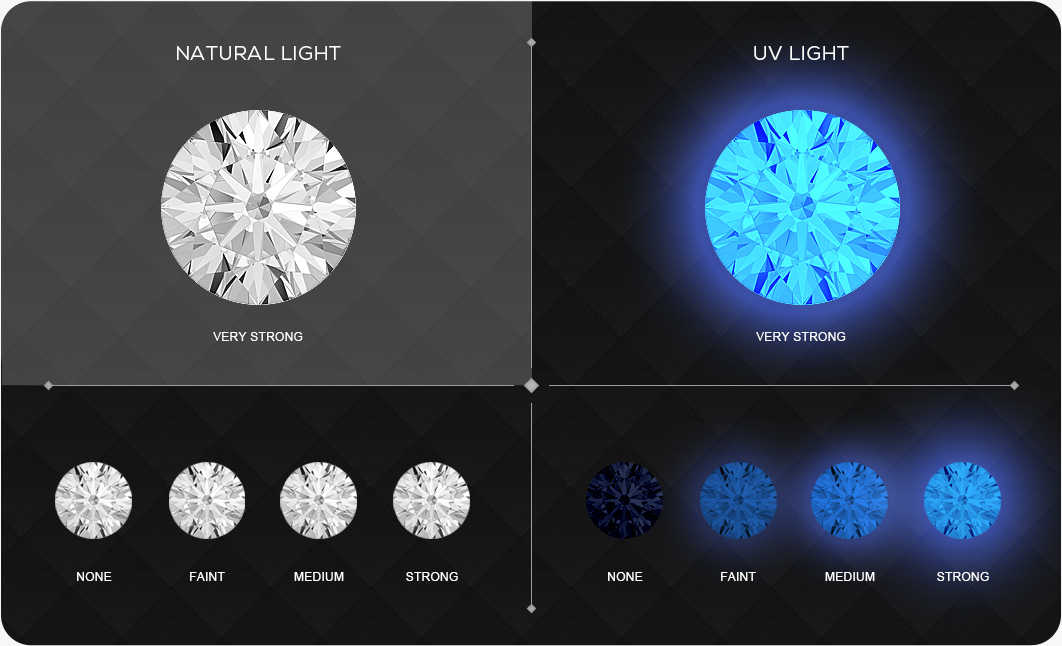 The theory, although unproven, has two primary premises:
Fluorescence negatively impacts colorless diamonds by making them appear cloudy
Fluorescence impacts lower color grade diamonds that are a faint yellow positively, because the blue fluorescence supposedly counter-balances the yellow color and makes the diamond appear whiter
Due to this theory, the pricing of diamonds often has been influenced over diamond fluorescence. That is why it is usual to find diamonds with amazing colorless grades, ranging from D to F, or near colorless grades, ranging from G to J, with reduced prices, because they exhibit fluorescence. Meanwhile, diamonds that are faint yellow in their color grades, such as ranges K to M are actually more expensive for exhibiting fluorescence.
The study conducted by the GIA in 1997 on what the true effects ultraviolet fluorescence has on a diamond's appearance was conducted using a combination of trained diamond graders, trade professionals, and average observers. They utilized a selected group of similarly graded diamonds for the study and the results did not support the theory that has long persisted. Average observers saw no difference between the diamonds that exhibit fluorescence and the ones that didn't. Meanwhile, the experts did not agree on the influence fluorescence has on diamonds. In actuality, the expert observers consistently determined that the diamonds that exhibited strong fluorescence were the ones with the best color.
Thus, the study refuted the first part of the theory and gave slightly less credence to the second part.
Should fluorescence influence the choice in
what diamond I buy?
Ultimately, it comes down to personal preference, but industry experts have no conclusive agreement on how fluorescence influences the appearance of diamonds. Yet, due to their debate and possible prejudice, you can find colorless or near-colorless diamonds for lower prices if they exhibit fluorescence, rather than higher prices for those that do not. Ironically, many experts in the study recorded that they found diamonds with fluorescence to have the best color. So, don't disregard a diamond just due to it exhibiting fluorescence; rather enjoy the lower prices. If you are, on the other hand, looking to buy diamonds as an investment and one day intend to resale, then you should pay close attention to how diamonds with fluorescence are being priced by the industry.