How to Determine Your Ring Size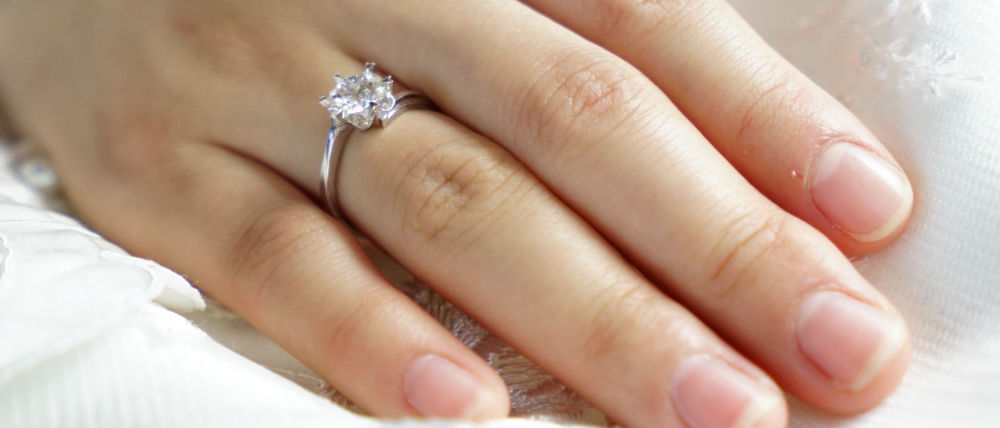 Engagement rings and wedding bands are a major investment. Although most metals can be resized, it is easy to get the correct size initially.

One of the most stressful things about engagements is making sure that the ring will fit. Most men surprise their future wives with a proposal, and none of them want to create an awkward situation by giving a ring that does not fit. Conversely, new fiancées and brides are quite attached to their new rings, and they do not relish the idea of leaving them with a jeweler for hours or days to be resized. There is no need to stress over determining ring size.
Steps to Determine Ring Size for Yourself or a Loved One
One simple way to figure out your ring size is to measure your finger. You may use a tape measure or a strip of flexible material that you could measure later. Wrap the tape measure or material around the finger on which you plan to wear the new ring. Make sure that you do not wrap too tightly; the strip should feel just as comfortable as you would want a ring to feel. Mark the strip in the spot where it makes a complete circle around our finger. If you used a piece of paper or fabric, measure the marked portion against a ruler. Once you have your measurement in centimeters or inches, use a conversion chart to find your ring size.

Another option is to use a ring sizing chart. Many jewelers have a printable sizing chart that you can print out and use in the comfort of your own home. Ensure that your printer's scaling settings are set to off; a distorted chart will lead to inaccurate sizing. Choose a ring that you already own and that fits your desired ring finger perfectly. Print out your sizing chart and place your ring over the circles on the chart. For a perfect fit, the inside of your ring should match the circle. If you align the outside of the ring with the circle, it will be too large.
Additional Ring Sizing Tips
There are several tricks for determining ring size for a significant other secretly to keep the proposal a surprise. If he or she wears a ring regularly, you can momentarily borrow it to measure it against a ring sizing chart. Alternatively, you can ask a close relative, friend, or roommate of your significant other to craftily ask their ring size and relay the information to you.

If you are in between two ring sizes, go with the larger size. Our fingers tend to swell throughout the day due to gravity and heat. If you size down, it is likely that your new ring will be too small for most of the time that you will be wearing it. Additionally, in the event that you still end up with the wrong size, it is easier to size a ring down by removing metal than to size it up by adding.
Make Torosi Your First Choice for Engagement Rings and Wedding Bands
Torosi is a top designer and fine retailer or engagement rings and wedding bands. To view our products, learn about diamond buying choices, or find a ring sizing chart, please explore our website. You may also contact our community service representatives for inquiries and further assistance.