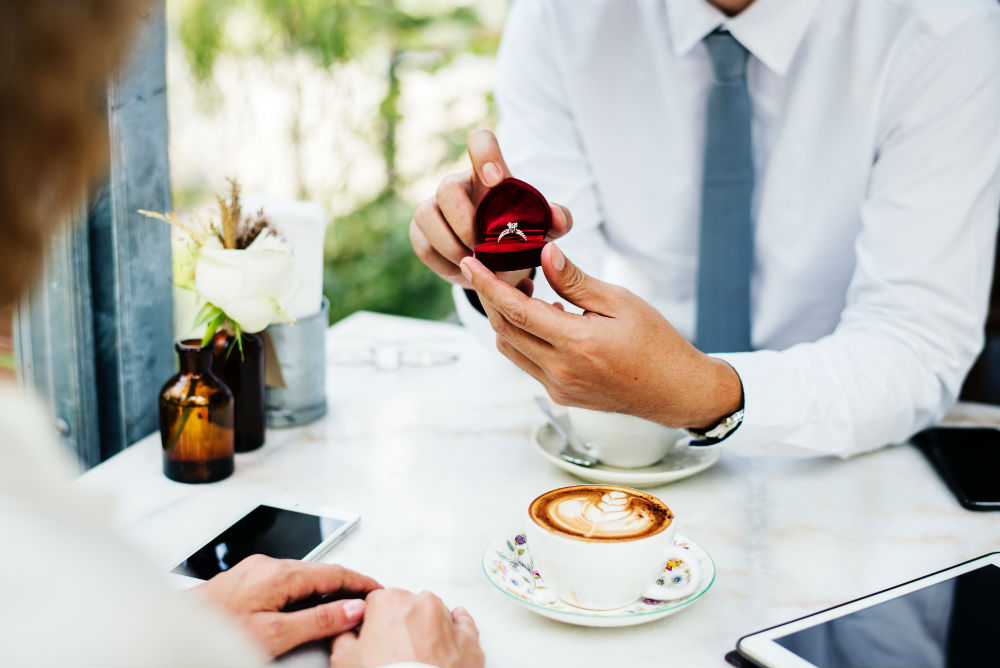 Asscher cut engagement rings are proving to be a popular trend for 2019. The Internet allows us to see a plethora of different ring options, and many brides end up wearing the same trends. As individualistic brides search for a more distinctive ring style, rare asscher cuts emerge as a viable option.
An asscher cut is sometimes referred to as a "square emerald." The shape is similar to that of a cushion cut; the softened edges of the square make it less harsh than a princess cut. However, the facets within an asscher-cut diamond are step-cut like an emerald. The result is an ultra-unique, Art Deco-inspired stone with perfect planes for reflecting light.
Asscher cut engagement rings are ideal for the bride who wants a one-of-a-kind look with Old World elegance. The famous Krupp diamond worn by Elizabeth Taylor was an asscher. Carefree A-list actress Gwyneth Paltrow has worn the cut as well. This diamond cut is appropriate in a solitaire or three-stone setting, and it looks great oriented like a square or sitting on one of its point like a diamond.
Popular Asscher Cut Engagement Rings at Torosi
Vintage-inspired asschers are complemented well by a diamond halo. The strand of diamonds around the perimeter of the center stone further softens the corners and promotes femininity.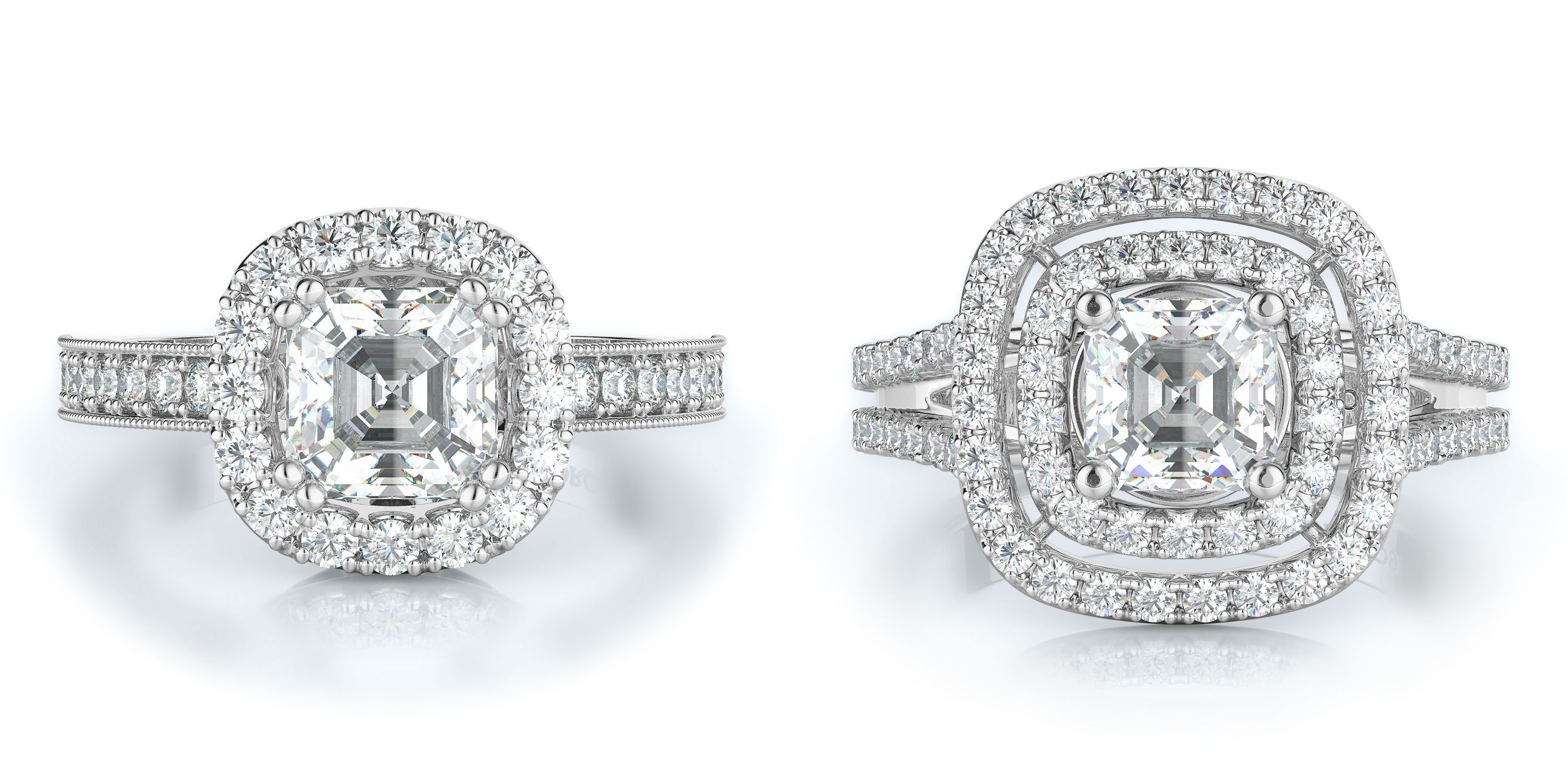 In this style, the halo makes the asscher appear significantly larger. Graceful milgrain borders on the top and bottom of the pavé band provide definitive structure. A lifted setting allows additional light to enter from underneath the diamond and reflect through the top. This more dramatic setting is decidedly reminiscent of the Roaring Twenties. A second halo supported by four prongs seemingly floats around the first halo. Geometric lines are further accentuated by open pavé shanks.
For brides who prefer to have as many diamonds on their engagement ring as possible, a side stone style may be preferable.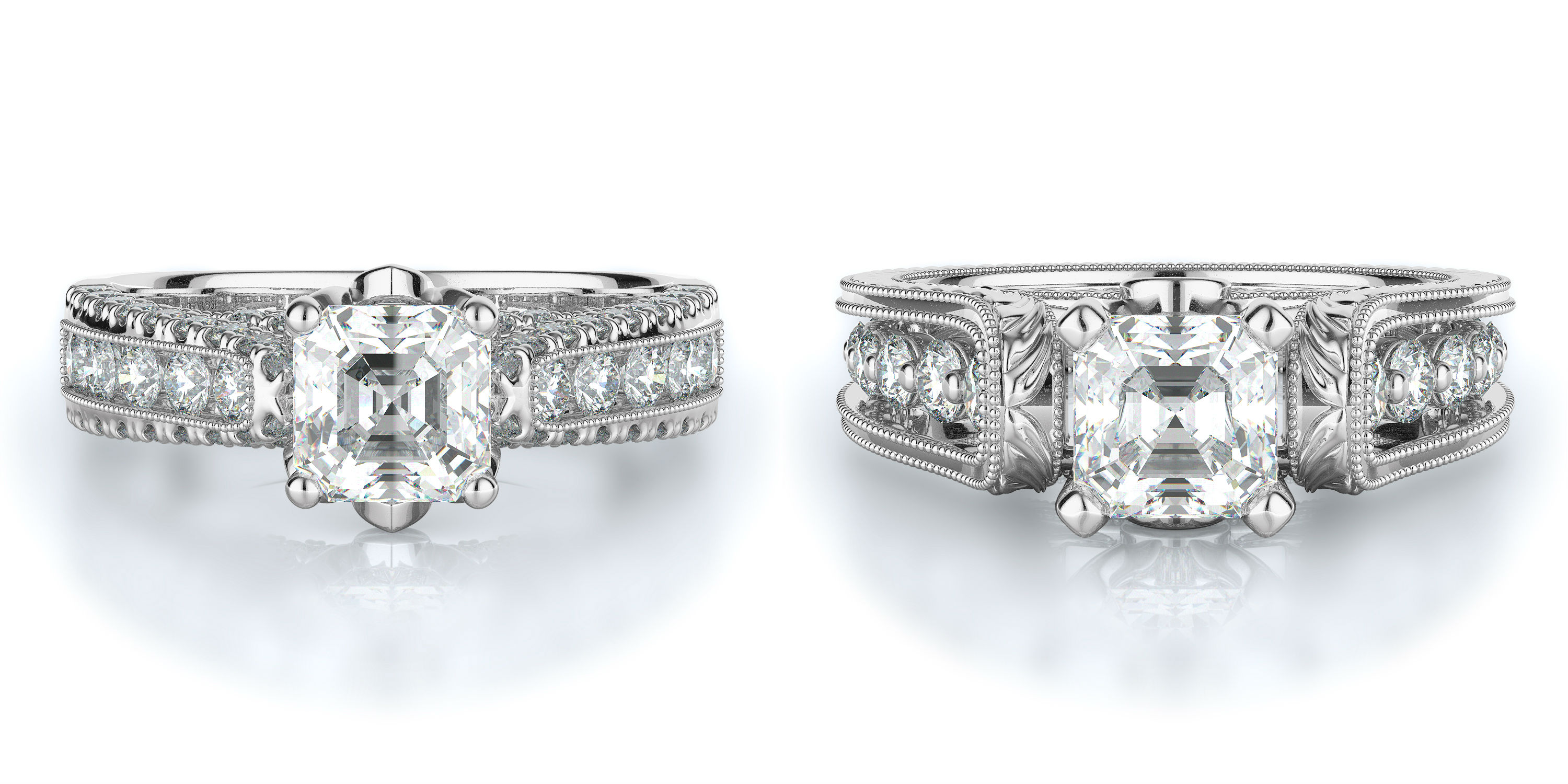 This ring is completely loaded with diamonds; accent stones decorate the front, top, and bottom of the band. Additional diamonds under the main setting ensure that this ring will catch light from every angle. In a more contemporary style, accent diamonds float in an open space surrounded by intricate metal beading. The textured band does not sit completely flush with the center setting, which is complete with a hidden bezel-set diamond.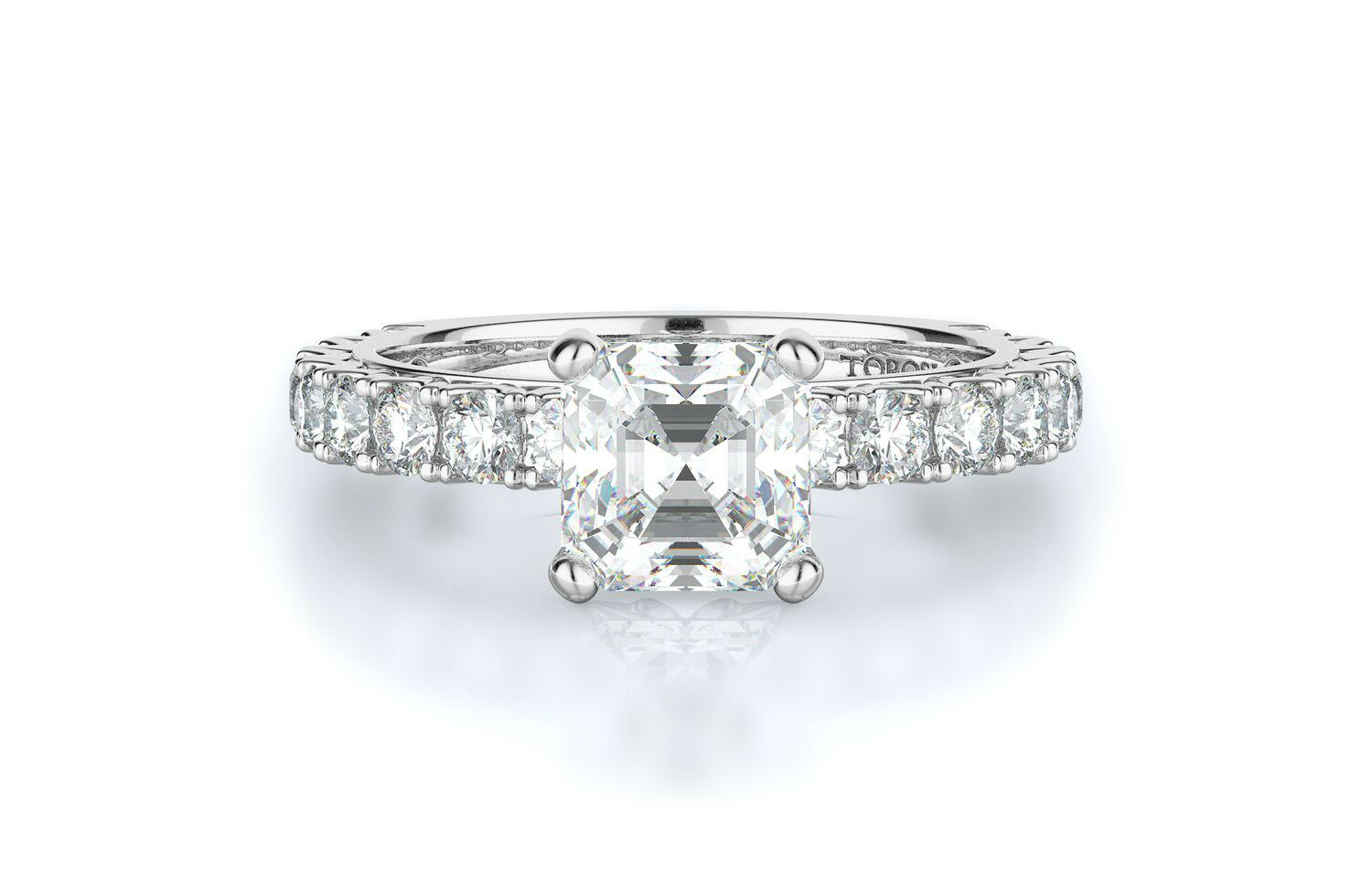 Because the asscher is such an unusual shape, it can make traditional silhouettes more interesting. This simple solitaire is far from boring; the uncomplicated setting allows the asscher-cut diamond to take center stage. For added sparkle, the band is covered in round diamonds held firmly in place by prongs.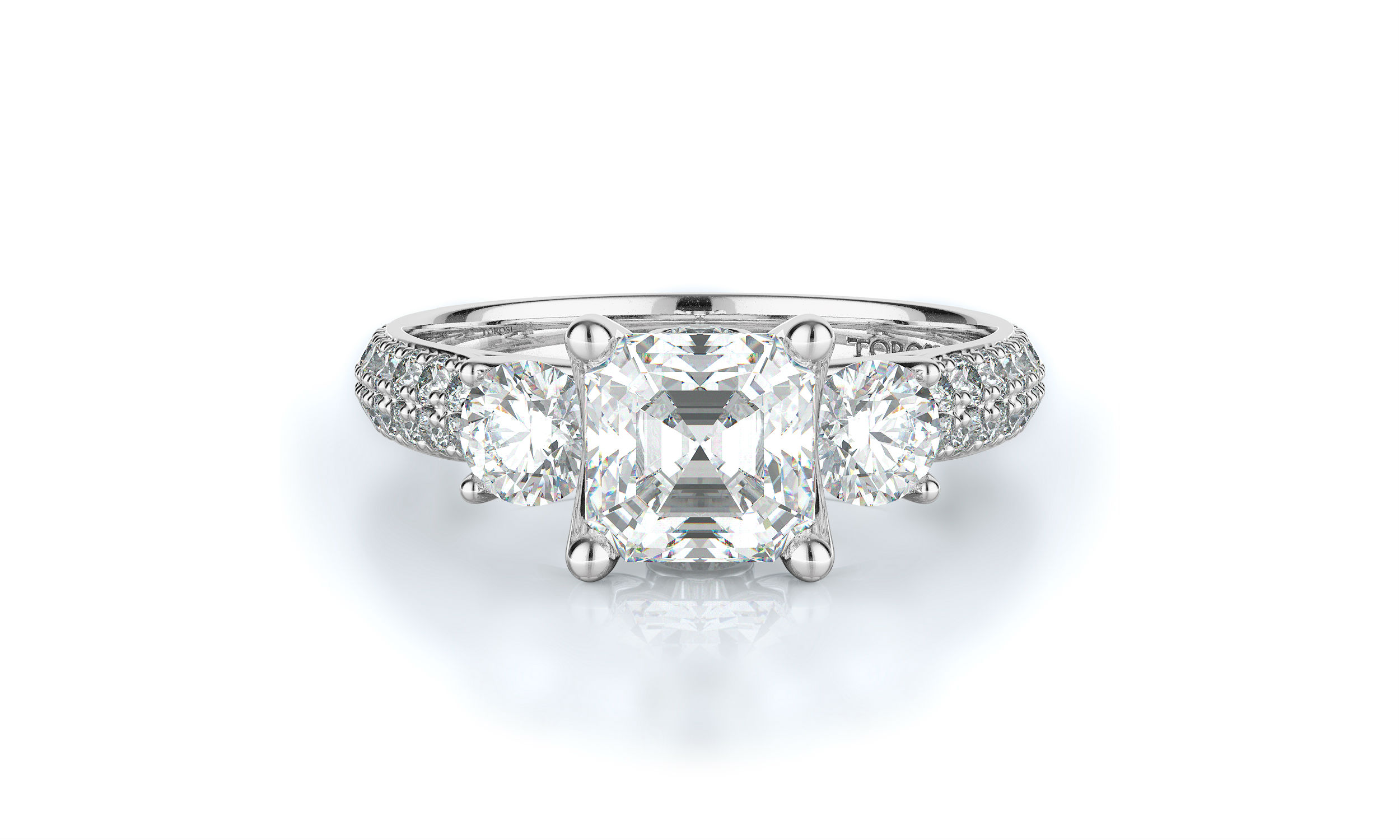 Another time-honored silhouette, the three-stone, proves worthy of the asscher as well. Round diamonds complement the curved edges of the center stone. Each of the three diamonds is lifted high for light entrance, reflection, and sparkle. Each of their prongs meet in the center of the band at a bezel-set diamond. Two closely-layered rows of pavé diamonds on a knife edge band sparkle intensely.
Finding Asscher Engagement Rings at Torosi
Torosi is a fine retailer and designer of engagement rings and wedding bands. We use high-quality, ethically-sourced materials to craft the perfect rings for your big day and beyond. To learn how to choose the right diamond or to view our wide ring selection, please browse our website.