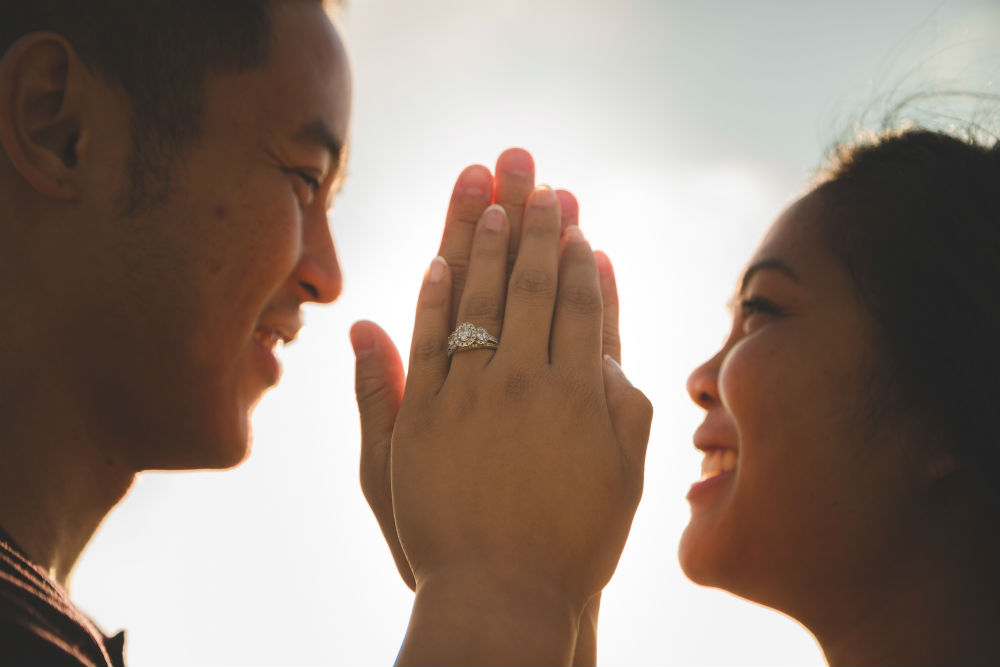 An engagement ring is a thing of beauty that will last a lifetime. Each one is a unique piece that distinctly reflects the time in which it was made, as well as the love it was designed for. This year's rings reflect the changing tastes and trends of today, and many brides-to-be like to stay ahead of the trends when creating their rings with their partner.
There are many exciting engagement ring trends that capture the timeless elegance of a diamond while making a unique style statement. Keep reading for 7 of the top engagement ring styles you can find at Torosi!
Pear Shaped Diamonds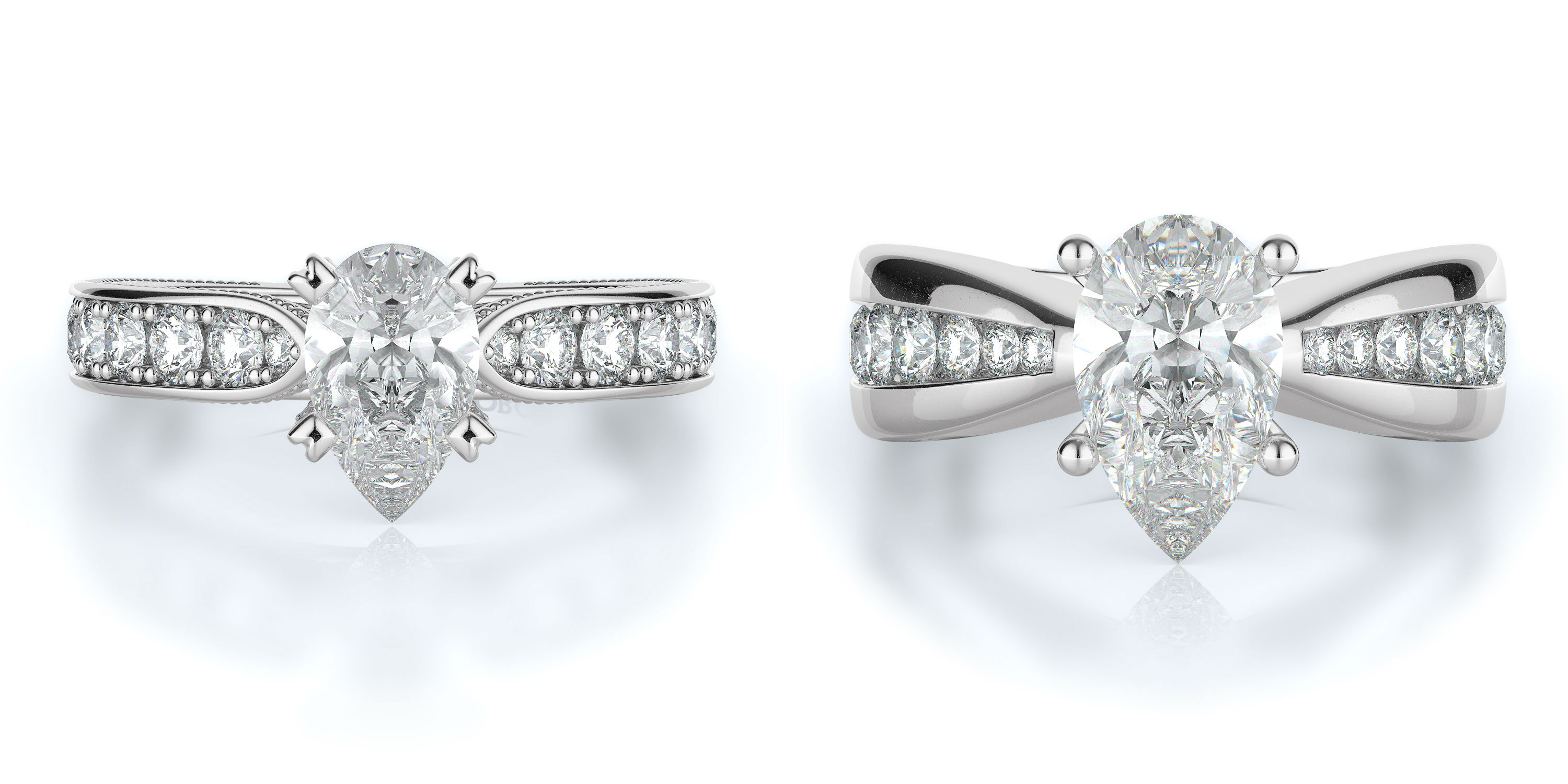 Pear-cut diamonds are eye-catching and elegant. They look lovely in both solitaire settings and more complex designs. The unusual shape catches the light and adds lots of sparkle to the stone. Pear-shaped diamonds can be placed in many different settings -- and can even be turned upside down for a fresh, new look -- so a world of creative freedom is available to you.
Halo Settings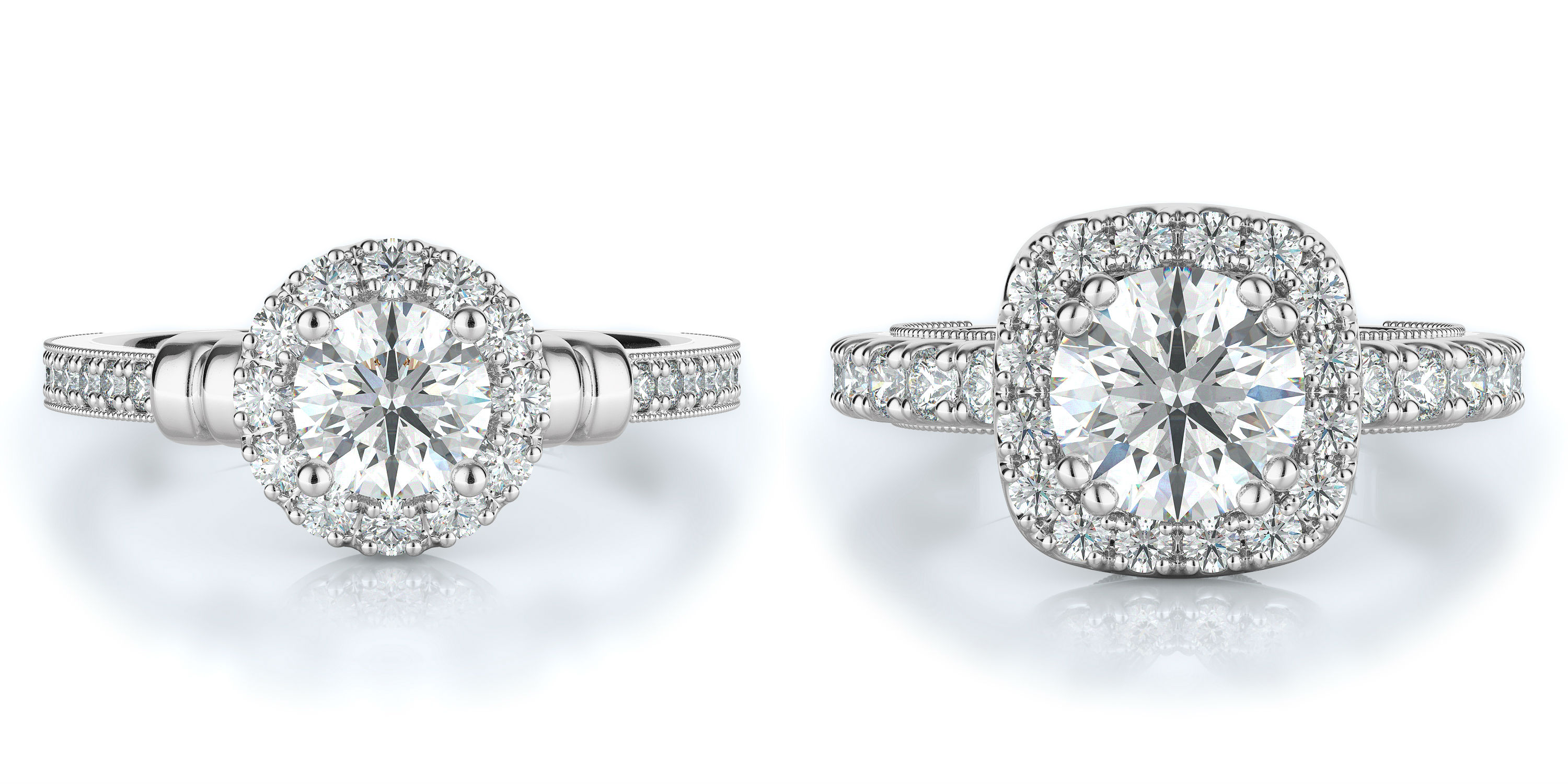 Halo settings are, without question, one of the hottest engagement ring trends today. The halo setting surrounds a stone with a ring of smaller diamonds – creating a dazzling halo of light around your center diamond. This is a great way to enhance a stone with extra shine and glow, at a fraction of the cost of a larger, high-quality rock.
Three Stone Rings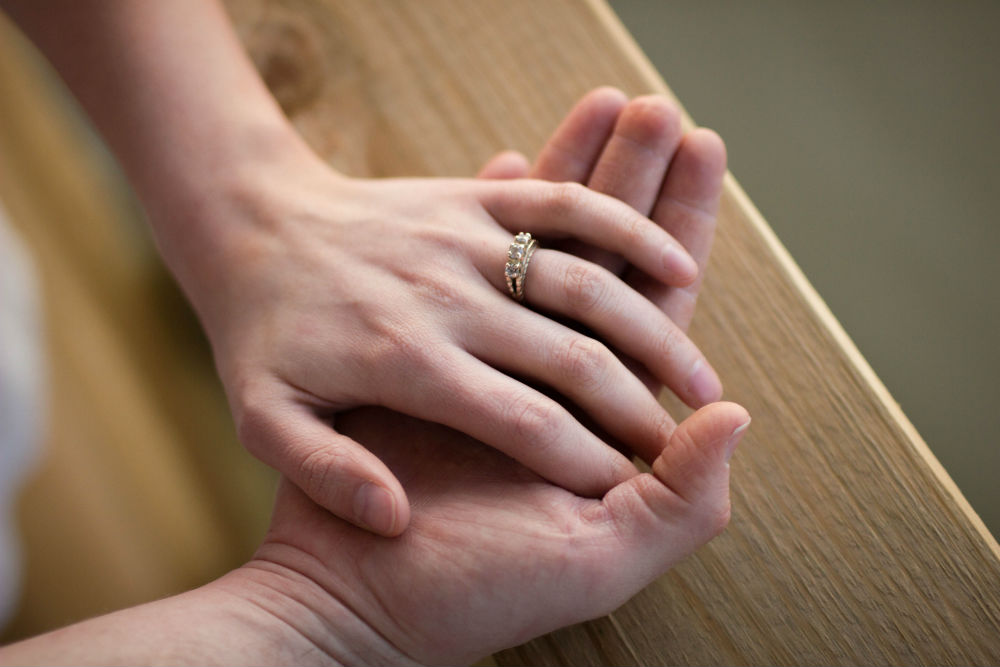 Three stone rings bring together a trio of brilliant stones for a glittering statement that individual diamonds can't make on their own. Choose side stones with a shape similar to the center stone's for a symmetrical look, or make a statement with unique trillion or baguette cut side stones. These lovely settings have a life and fire all their own; they are available in a range of sizes so you are sure to find something that perfectly suits her taste.
Marquise Cut Rings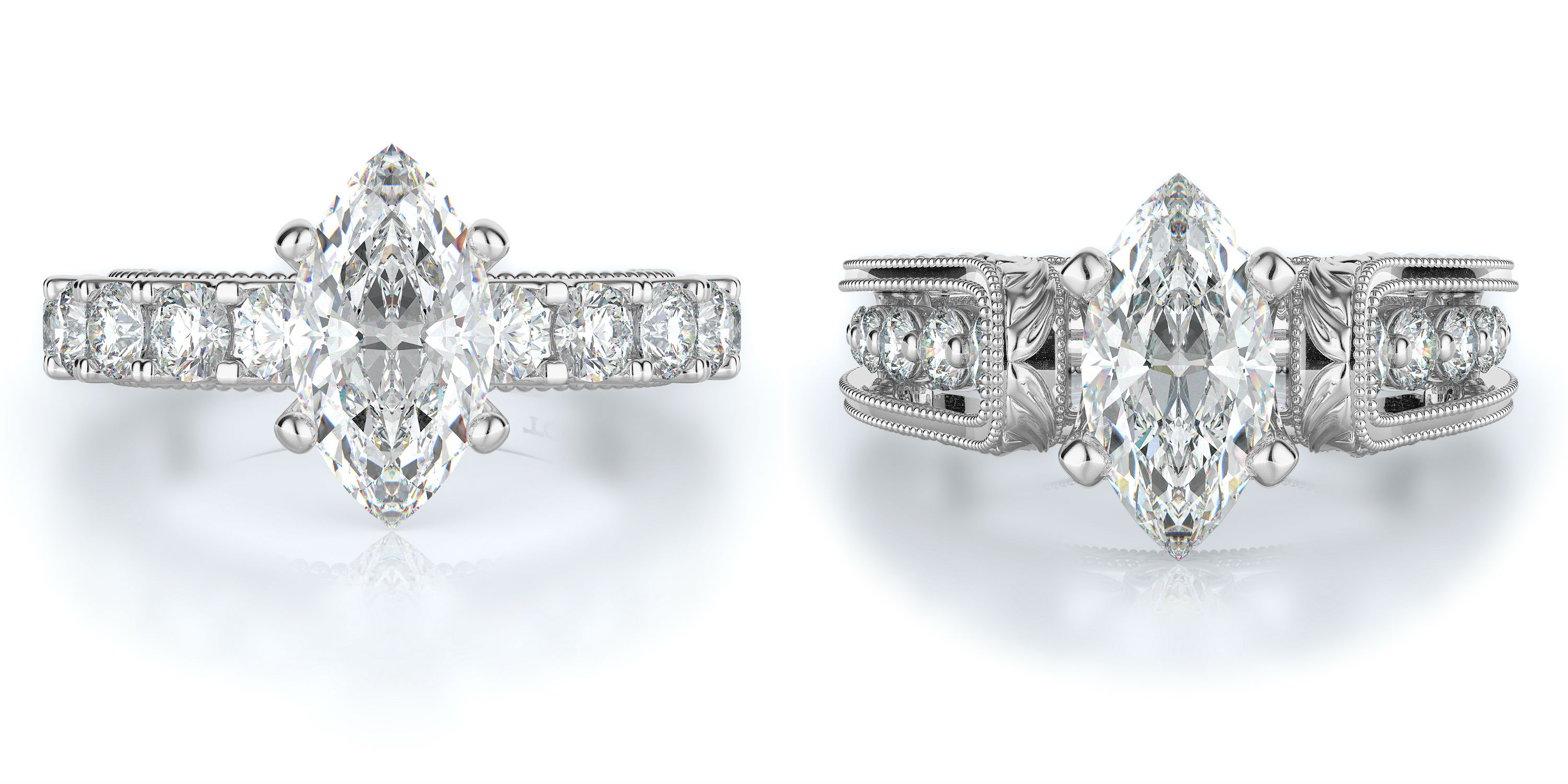 The marquise cut is a timeless classic that is gaining serious notice this year. This long, elegant cut has lots of natural sparkle thanks to its myriad of angled facets. Marquise cut stones are very eye-catching and pairs beautifully with delicate rose gold settings for a vintage-inspired look.
OVAL CUT RINGS
Oval cut stones are classic and very chic. They have a soft, feminine shape that many women prefer. Oval cut diamonds typically look larger than other diamond shapes with a similar carat weight, so this is a shape to consider if you're looking for a stone with the best value. Oval stones are often combined with halo settings to amp up the glam factor, or left unadorned to take center stage on your beloved's finger.
MULTIPLE BANDS OR SPLIT SHANK RINGS
These engagement ring trends are definitely hot this year; you may have seen these on social media channels and in magazines.
Designers have loved this trend because it gives them two bands to work with. In this style, two bands run parallel to each other and are connected by a shank or a stone. This contemporary style is a chic and stylish way to show your partner how devoted you are to your relationship together.
VINTAGE INSPIRED RINGS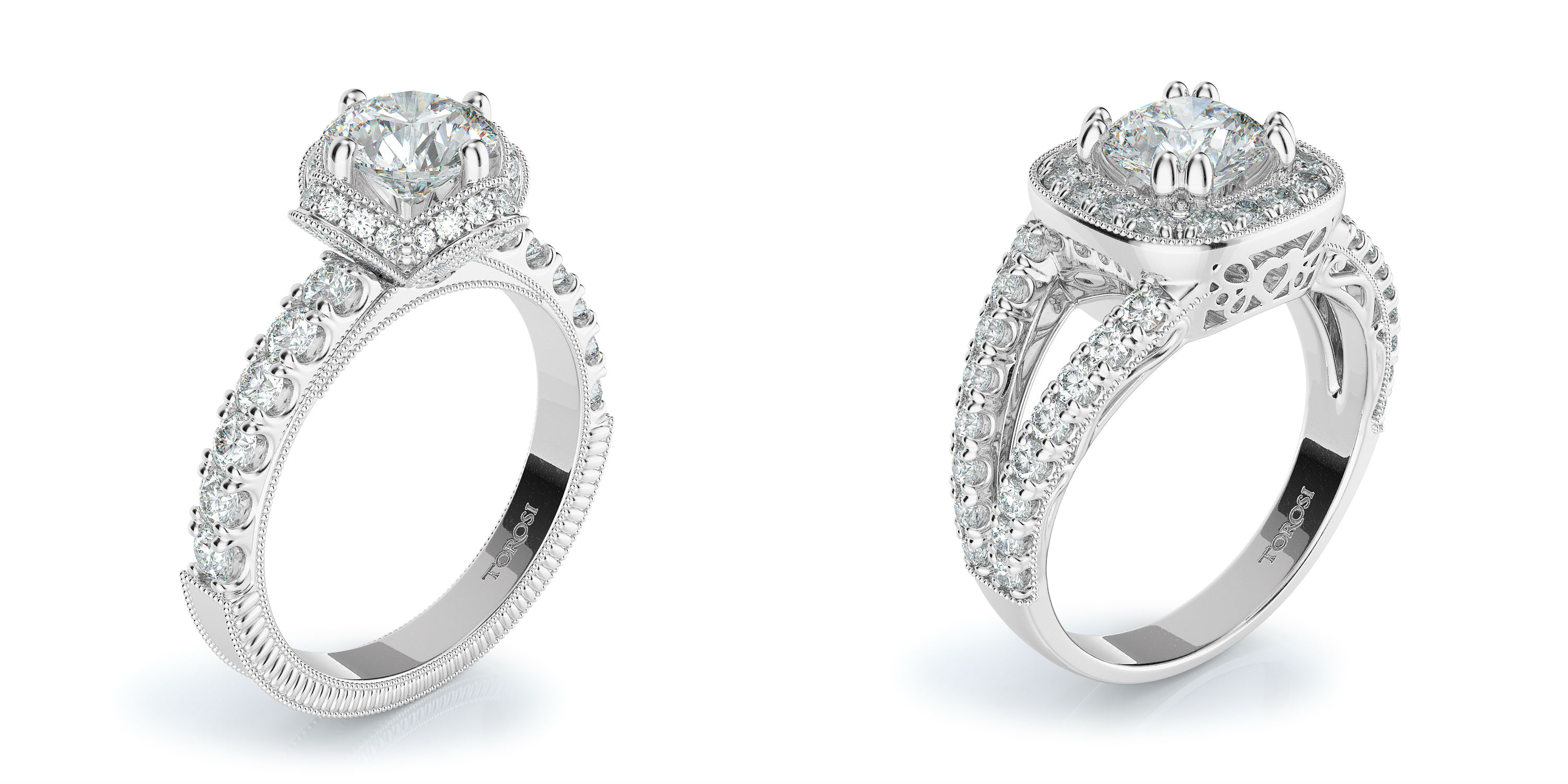 Vintage-inspired settings are one of the biggest engagement ring trends making a big comeback this year. Designers have worked hard to capture the timeless and intricate styles that have made the diamond ring an enduring symbol of lasting love. Torosi offers many exciting settings for vintage lovers to choose from. Vintage-inspired rings are excellent for women who want bridal jewelry that will truly stand the test of time and those who want the finest quality pieces to pass down to their children in the future.
Torosi is Your Source for Engagement Ring Trends
Torosi is your trusted source for fine engagement rings, bridal jewelry, and so much more. We stock an extensive selection of rings and stones, and we make finding the perfect ring simple. Just choose a stone and a ring setting online -- do it from the comfort of your home, on the go, anywhere you want. Once you place your order, we take care of the rest.
You can count on Torosi for lasting quality and timeless beauty; contact us today to start your purchase.